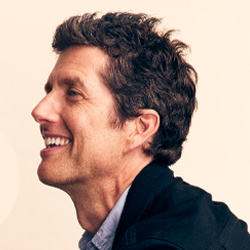 Kevin Griffin
Singer/Songwriter/Author
Better than Ezra
To date, Kevin Griffin has produced, written, and co-written albums and songs that have sold in excess of 30 million copies.
Kevin made his professional debut in 1995 as the singer and songwriter for New Orleans-based band Better Than Ezra. Their debut record, Deluxe, went double-platinum fueled in part by the success of the #1 Modern Rock track "Good." The band's follow-up record, Friction Baby, went Gold and contained two Top 10 Modern Rock tracks followed by another Top 10 Hit in 2001 with the single "Extra Ordinary." In 2005, Better Than Ezra had a Top 10 Hot AC hit with "Juicy," which was not only licensed by several commercials and brands but also featured in the promotional advertisements for the popular ABC television series Desperate Housewives.
Griffin has produced and written songs performed by artists such as Taylor Swift, Train, Sugarland, Barenaked Ladies, Blondie, and James Blunt, among others. He scored a #1 hit in 2005 with Howie Day's "Collide." In 2010, Griffin had Sugarland's #1 Country hit, "Stuck Like Glue," which became the 11th most downloaded country music song of all time. Better Than Ezra's recent song, "Breathless," was covered by Taylor Swift at the Hope for Haiti telethon and during her worldwide tour.
In addition to songwriting and performing, Griffin is involved in artist management and lectures on the subject of creativity to groups and companies. He is a co-founder and partner in Pilgrimage Music & Cultural Festival, which is a two-day event located in Franklin, TN. After its inaugural year, Rolling Stone commented that Pilgrimage had "an A-list lineup (arguably the best curated of the year)" and "established itself as a festival to watch." The festival has featured memorable performances from Justin Timberlake, Willie Nelson, Chris Stapleton, Beck, Sheryl Crow, Steven Tyler, Eddie Vedder, and many more.
His debut book, a creative nonfiction work inspired by his life and career called The Greatest Song: Spark Creativity, Ignite Your Career, and Transform Your Life, was released this past April.