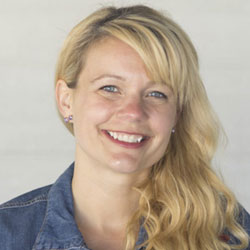 Lindsey Harris
SVP, Experience Design
Valtech
PREVIOUS SPEAKER PAGE
Lindsey was a featured speaker at RetailSpaces 2019.
Lindsey brings over 15 years of experience design solutions for some of the world's biggest brands. Lindsey leads experience design in North America for Valtech, helping win numerous awards since joining in 2014. Previously she worked as design director agency side, as well as starting her own successful design consultancy.
A native New Englander, Lindsey has brought creativity through design and strategy to a wide range of national clients and projects. From traditional branding such as leading the design charge for a 50-year plan to guide San Diego's future, concepting and designing some of the first iPhone apps to reach Top 10 charts, to pushing effective and progressive experience design for top retail brands. Lindsey believes in bringing to life design strategy from big-picture ideas all the way down to the smallest execution details. Lindsey has a BFA, Visual Design degree from the University of Delaware. She has worked with brands such as Disney, The American Girl, Container Store, Samsung, Sony, and UNICEF.