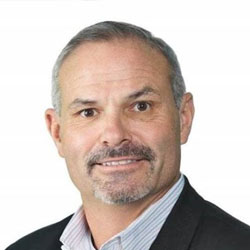 Bill Mitchell
President
Dunkin' Brands International
PREVIOUS SPEAKER PAGE
Bill Mitchell was a featured speaker at RetailSpaces '16.
Bill Mitchell joined Dunkin' Brands in October 2010 and currently serves as President, Dunkin' Brands International. Bill has responsibility for nearly 8,400 Dunkin' Donuts and Baskin-Robbins restaurants in 61 countries outside the U.S.
Bill is a seasoned restaurant operations executive with extensive U.S. and global franchising experience. Prior to becoming President, Dunkin' Brands International, Bill served as President, Baskin-Robbins U.S. and Canada, overseeing the brand's return to positive comp sales growth from 2010 to 2015.
Prior to joining Dunkin' Brands, Bill worked for Papa John's International for 10 years, most recently serving as President, Global Operations for the $3 billion-dollar company with 3,400 restaurants in 29 countries. In that role, he led successful growth in Asia, the Middle East, Europe, North Africa, and Latin America.
Prior to Papa John's, Bill held various operations roles with AFC Enterprise (Popeye's), including the role of Senior Director of Operations, where he led the acquisition of 81 Hardee's restaurants, which was the largest acquisition in Popeye's 27-year history. Earlier in his career, he worked for the RM Restaurant Group as Vice President of Operations and for PepsiCo as part of the KFC national management team. Before entering the restaurant industry, Bill served as a Captain in the U.S. Army.
Bill received his Bachelor of Science degree from North Georgia College.
Bill is drinkin' a Dunkin' Dark Roast coffee, black, and scoopin' Baskin-Robbins Love Potion #31® ice cream.