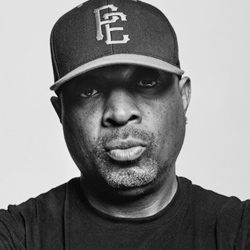 Chuck D
Leader / Frontman
Public Enemy
Leader and co-founder of legendary group Public Enemy and part of the supergroup Prophets of Rage, Chuck D is a social activist, author, film producer and digital music pioneer. He first rose to acclaim in the 1980's with a string of critically lauded and commercially successful albums that addressed weighty issues about race, rage and inequality with a jolting combination of intelligence and eloquence never seen before.
The New York Times has named Public Enemy's music to their list of the "25 Most Significant Albums of the Last Century" and in 2005 The Library of Congress added Fear of a Black Planet to their National Recording Registry. In 2013, Public Enemy was inducted into the Rock and Roll Hall of Fame. In 2015, Public Enemy's "Harder Than You Think" was selected for NBC's official Super Bowl XLIX commercial after being the cornerstone of the 2012 Paralympics campaign (which drove the song into the UK Top 5). "It Takes a Nation of Millions To Hold Us Back" (15) "Fear of A Black Planet" (176) were both named to Rolling Stone's 500 Greatest Albums of All Time list in 2020, the same year Public Enemy received a Lifetime Achievement Award at the GRAMMYs. In 2021, "Fight The Power" was named #2 on Rolling Stone magazine's list of 500 Greatest Songs of All Time (which also included "Bring The Noise").
In June 2016, Chuck debuted Prophets of Rage, a new "supergroup" with former Rage Against the Machine members Tom Morello, Tim Commerford and Brad Wilk, Cypress Hill's B-Real and DJ Lord of Public Enemy. He formed Enemy Radio in 2019, the DJ-MC soundsystem component of Public Enemy and toured throughout Europe with Wu-Tang and De La Soul.
Chuck D is also a visual artist whose work has been shown in galleries nationwide, a best-selling author (including 2017's 300-page "This Day In Rap and Hip Hop History"), a highly-sought after speaker on the college lecture circuit, has been a prominent member of music industry non-profit organizations MusicCares and Rock The Vote (which honored him with the Patrick Lippert Award in 1996 for his contributions to community service), runs his own record label, SpitSlam, and launched the websites Rapstation.com, HipHopGods.com and SheMovement.com. He has served as national spokesperson for the National Urban League, the National Alliance of African American Athletes and Hip Hop Public Health. This year, Chuck has released a graphic novel and, in the fall, will release a limited-edition book and print collection of his fine artworks.