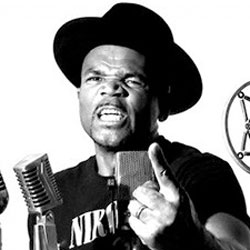 Darryl
"DMC" McDaniels
Legendary Music Icon – Co-founder
RUN-DMC
PREVIOUS SPEAKER PAGE
Darryl 'DMC' McDaniels was a featured speaker at RetailSpaces '17.  
Innovator, Motivator, Philanthropist, Darryl "DMC" McDaniels changed music and made history when he broke down cultural barriers 30 years ago with his legendary band Run-DMC. Thirty-five million record sales later he continues to inspire & impact the world…
Darryl "DMC" McDaniels is a legendary music icon who first impacted the world over 30 years ago. From the first rap group to grace the cover of Rolling Stone Magazine to the first to appear on MTV, Grammy nominated Run-DMC changed music, culture, fashion, language and made American history. It would be hard to overstate his influence on popular culture.
Thirty-five million record sales later, and more than ten years after the untimely death of his bandmate Jam Master Jay, DMC still continues to create, inspire and motivate. In 2009, as a member of Run-DMC, he was inducted into the Rock and Roll Hall of Fame and in 2016 he received a Grammy Lifetime Achievement Award from the Recording Academy given to "performers who, during their lifetimes, have made creative contributions of outstanding artistic significance to the field of recording."
In 2014 he launched a comic book company called Darryl Makes Comics (DMC Comics), a new journey that helps bridge the gap between the worlds of hip-hop and the fantastic adventures he got wrapped up in as a youth. The company's first full-length graphic novel hit stores in October 2014 and has since followed up with a new release annually. 
Darryl is also the co-author of two critically acclaimed books: his recent memoir entitled, Ten Ways Not to Commit Suicide (2016/Harpers/Amistad), and a past autobiography King of Rock; Respect, Responsibility and My Life with Run-DMC (2001/ Thomas Dunne Books/St. Martins).
In 2006 he co-founded the Felix Organization with Sheila Jaffe- a nonprofit that works to provide inspiring opportunities and new experiences to enrich the lives of children who are growing in the foster care system.
All the while, DMC's music continues to inspire! He recently released a new single "Flames" that talks about gun violence featuring John Moyer (Disturbed) and Myles Kennedy (Alter Bridge) and is busy working on new album entitled DMC: Dynamic Music Collaborations that along with "Flames" will feature new songs with Rome (Sublime) Joan Jett, Travis Barker (Blink 182), Tim Armstrong (Rancid), Chuck D, Sum 41, DJ Hurricane (Beastie Boys), Sebastian Bach (Skid Row), Mick Mars (Motley Crue) and more to be released in 2017.
In between his work as a musical artist and producer, published author and speaker, or his work with his nonprofit, McDaniels has been invited around the globe to address various youth groups on respect, responsibility, and self-awareness, including an invitation to the White House by President Obama. Darryl has also appeared before Congress and various State legislatures in support of adoptees and foster children, worked with First Lady Michelle Obama on part of her Get Fit Campaign and was a featured speaker at the 2016 Kennedy Forum #Young Minds Matter event on Mental Health, and at the 2017 SXSW Music Festival to name a few.
He has received numerous awards including the Hard Rock's Love All Serve All Award for his numerous philanthropic endeavors, Doing Art Together (DAT) Honoree for his contributions to helping under-served communities in NYC in the classroom and life, and the coveted CHILDREN'S RIGHTS Champion Award for his tireless work on behalf of foster children through his FELIX ORGANIZATION/ Adoptees for Children, as well as his work providing other year-round opportunities for children in foster care.
In addition to the Felix Organization, Darryl "DMC" McDaniels currently serves on the Board of Directors of The Garden of Dreams Foundation, a non-profit charity that works closely with all areas of The Madison Square Garden Company, including the Knicks, Rangers, Liberty, MSG Entertainment and MSG Media, to make dreams come true for children facing obstacles.
www.thekingdmc.com