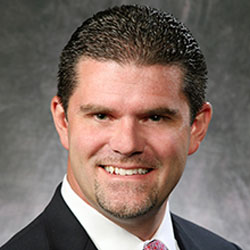 Geno Coradini
Vice President of Real Estate
Advanced Auto Parts
PREVIOUS SPEAKER PAGE
Geno Coradini was a featured speaker at RetailSpaces '15.
Geno Coradini has been Vice President of Real Estate at Advance Auto Parts Inc. since February, 2014. Advance Auto Parts is the largest automotive aftermarket parts provider in North America, serving both the do-it-yourself and professional installer markets. As of April 19, 2014, Advance operated 5,276 company-operated stores, 105 Worldpac branches, and served approximately 1,400 independently owned Carquest branded stores in 49 states, Puerto Rico, the Virgin Islands and Canada.
Prior to joining AAP, Mr. Coradini served as Executive Vice President and Retail Market Lead at Jones Lang LaSalle from 2008-2013. At JLL, Geno was responsible for leading a business unit which serves as an outsourced real estate department for national retailers.
From 2005-2008, Geno served as Managing Director, Development for FedEx Office where he was responsible for real estate and construction activities and developed a strategy for FedEx Office's national expansion program. Mr. Coradini also served as Divisional Vice President of Real Estate at Family Dollar Stores. He originally began his career with AutoZone as a Real Estate Manager in 1998.