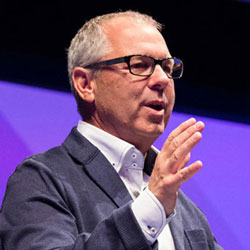 As CEO of Taco Bell, Mark King is responsible for driving overall brand strategy and performance of the business in the U.S. and internationally. Prior to Taco Bell, King served as President of adidas where under his leadership, market share doubled in under three years and sales tripled in four years.
Mark King will be joining us at RetailSpaces to discuss what Taco Bell learned from the COVID-19 pandemic. Required to close all but drive-through traffic, it took some quick maneuvering just to remain open. Mark admits it was tough, but he now says it was a valuable lesson.
Enhanced protocols for safety are in place. Food delivery services and curbside pickup complement drive-through service, and will likely coexist with dine-in options in the future. Doubling down on the Taco Bell experience of flavor and fun will survive the pandemic.
Mark King's mantra: People count, and safety is all-important. This quick-thinking executive didn't welcome the virus, but he learned from it and from consumer behavior. In this candid talk, Mark will discuss how what he learned "accelerates the future."