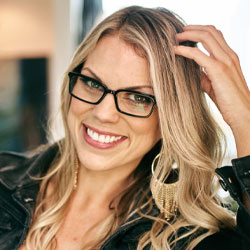 Megan Stone
Founder
High Road Design Studio
PREVIOUS SPEAKER PAGE
Megan Stone was a featured speaker at RetailSpaces 2019.
A disrupter, innovator and entrepreneur, Megan Stone is the grand dame of dispensary design. Since founding The High Road Design Studio in 2013, she has provided interior design and brand identity services to cannabis retailers and brands across the US, for both recreational and medical markets. Her unprecedented retail designs have helped usher the cannabis industry onto Main Street and into the mainstream, and have forever changed the international conversation about the retailing of "vice." Her work has been lauded for altering thoughts, feelings and behaviors worldwide, blazing a trail and earning awards and commendations for design excellence along the way. 
Megan has won numerous awards for her work in both national as well as international design competitions. She is a contributing editor on design for MG Magazine and has been featured in Forbes, Entrepreneur, Architectural Digest Online, High Times, Marijuana Venture, and Interior Design. She has presented on her work at GlobalShop in 2017, the International Retail Design Conferences of 2014, 2015, 2016, and 2018, and the National Marijuana Business Conferences in 2015 and 2016. In early 2019, she will add "dispensary owner" to her growing list of credentials with the opening of Royal Highness, a cannabis boutique in Palm Desert, California.