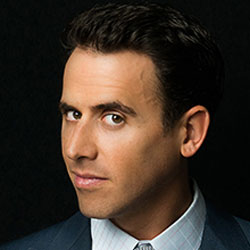 Oz Pearlman
Endurance Athlete,
Mentalist & Magician
PREVIOUS PERFORMER PAGE
Oz Pearlman was a featured performer at RetailSpaces '15.
Check out Oz on America's Got Talent!
Oz (pronounced OH's) Pearlman is one of the busiest performing mentalists in the country. He developed an interest in magic at a young age and what started as a mere hobby became a lifelong passion. After a couple of years spent working on Wall Street, Oz decided to pursue his dream and become a full time entertainer. He has now been dazzling audiences with his mind reading abilities & world-class sleight of hand for over two decades!
In 2004, Oz launched his own one-man Off Broadway show, WatchMagic, a hit with audiences and critics alike. Upon witnessing the upbeat show, the New York Times declared "Even skeptical viewers are won over!" His client list reads like a who's who of politicians, professional athletes, A-list celebrities, and Fortune 500 companies. Oz's television appearances have aired on both national and international networks, including recent appearances on NBC's Late Night with Jimmy Fallon, CBS's Early Show and ABC's World News Tonight. His radio appearance on the top-rated Elvis Duran show in the morning was heard by millions across the nation.
Aside from entertaining audiences around the world, Oz is recognized by his peers and highly sought after to lecture about his original techniques in the fields of mentalism & magic. He has been invited to speak across 6 continents and over 30 countries (if you are out in Antarctica, call us please!), including a standing-room only crowd at the legendary Magic Circle in London. Oz has released several DVDs teaching the arts of mentalism & magic, including the blockbuster hit Born to Perform Card Magic, widely acknowledged as one of the most popular beginner magic DVDs ever released, having sold over a hundred thousand copies worldwide.
As if all that wasn't enough to keep his schedule packed, Oz is constantly pushing the limits of his body and mind as an endurance athlete. He has competed in many notable races including the Hawaii Ironman, Western States 100 Mile Run, Spartathlon 153 Mile Run, Leadville 100 Mile Run and Badwater 135 Mile Run. Oz has won dozens of marathons and ultra marathons throughout the country, and takes great pride in his marathon PR of 2 hours and 23 minutes.
Oz's natural charisma, charm and drive make him the perfect choice for corporate events and private parties alike. His unique blend of mentalism and magic create an interactive experience that is redefining the very nature of a "magic show"…one that truly needs to be seen to be believed!