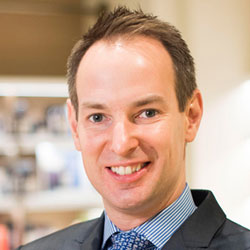 Paul Blackburn
VP, Retail Development, Design & Merchandising
L'Occitane
PREVIOUS SPEAKER PAGE
Paul was a featured speaker at RetailSpaces 2019.
Paul joined L'OCCITANE in 2012 and has been working within the Architecture & Design industry for 15+ years.  He is in charge of all aspects of Real Estate, Design, Construction & Merchandising, for a store portfolio of over 230 locations in North America.
Most recently, Paul has successfully launched entirely new L'OCCITANE in-store Concepts which have received numerous awards and recognition for enhancing the customer experience in unique and innovative ways.
Prior to joining L'OCCITANE, Paul's previous employers include Kenneth Park Architects, Rawlins Design, and Bowker Sadler Architecture. He has worked with top retailers such as West Elm, Tourneau, Rolex, True Religion Brand Jeans, and MAC Cosmetics, and in top locations such as Harrods London, Bergdorf Goodman New York, and the Fontainebleau Miami.
In 2017 Paul was named one of 10 "Retail Design Influencers," as part of design:retail magazine's Portfolio Awards program.