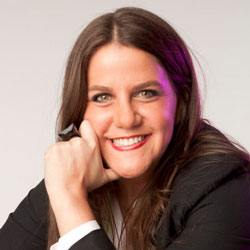 Rachel Shechtman
Brand Experience Officer/Founder
Macy's/Story
PREVIOUS SPEAKER PAGE
Rachel was a featured speaker at RetailSpaces 2019.
Rachel Shechtman joined Macy's, Inc. as brand experience officer and founder of STORY in May 2018 with more than 15 years of entrepreneurial and brand consulting experience. Rachel brings her passion for integrating marketing and merchandising to life through new innovative in-store experience strategies. 
In December 2011, Rachel launched STORY a rotating concept shop in New York City that changes out its entire store around different themes, including Beauty, Home for the Holidays and Wellness. STORY is often referred to as a living magazine and has received international attention for being the first retailer to launch its signature model 'Retail Media' – a unique blend of brand sponsorships and ever-changing assortments and event programming. 
Prior to STORY, Rachel founded Cube Ventures, a retail and marketing consultancy. In 2016 Rachel was named to the Board of Directors of the National Retail Federation; in 2017 the AAF induced Rachel into its Advertising Hall of Achievement; and in 2018 Rachel was named a Henry Crown fellow by the Aspen Institute. 
Rachel holds a bachelor's degree in economics from Colorado College.