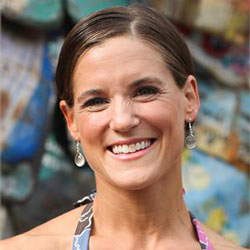 Sarah Apgar
Director of New Stores & Facilities
Warby Parker
PREVIOUS SPEAKER PAGE
Sarah Apgar was a featured speaker at RetailSpaces '15. 
As the Director of New Stores and Facilities at Warby Parker, Sarah Apgar oversees the planning, design and development of the company's retail stores, corporate offices, and industrial facilities nationwide. She loves bringing a fresh perspective to the retail and real estate industries.
Prior to joining the Warby Parker team in 2012, she spent her professional career in the military, outdoor education, and nonprofit sectors. She has an MBA from the Tuck School of Business at Dartmouth and a BA from Princeton, and was an All-American Rugby player and Captain in the Army's Corps of Engineers. In 2003 she deployed as a Platoon Leader attached to the 101st Airborne Division in Mosul, Iraq. An entrepreneur to the core with a passion for fitness, Sarah also runs a training outfit called Fitfighter, building firefighter-inspired fitness equipment and programs.
Sarah loves: her husband Ben Smith, her rat terrier Jackson, powder skiing, hot chocolate, outdoor gear, and romantic comedies.