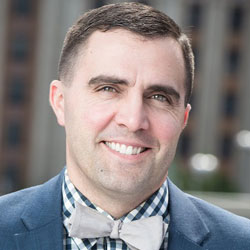 Tony Bailey
SVP, Real Estate, Facilities & Procurement
Umpqua Bank
PREVIOUS SPEAKER PAGE
Tony Bailey was a featured speaker at RetailSpaces '17.
Tony Bailey has 17 years of program design and implementation across Mergers, Acquisitions, Corporate Products and Services sub-categories including Temporary Labor, Engineering Services, Recruiting, Consulting, IT/Telecom, Professional Services, Marketing, and HR Services. Tony has provided consulting and industry experience in organizational development, real estate optimization, construction management, physical security, procurement transformation, spend analytics, category management, strategic sourcing, contract negotiation, supplier management, supply chain performance and third party risk management. This skillset was sharpened while working globally with fortune 500 companies from various industry verticals: Financial, Medical, Manufacturing and Transportation & Logistics.
Presently, Tony manages Umpqua Bank's Real Estate, Facilities, Design, Construction, TPO, Physical Security teams and serves as the Corporate Procurement Officer. He brings a wealth of international experience in procurement, supply chain, organizational vendor risk management, along with construction project management an officer in the USAF. Tony developed project cost accounting while integrating organizational procurement enhancements that provided scalable electronic invoicing interface with the general ledger system. Over the past two years, Tony has led his teams in achieving over $18MM in corporate synergies.
Prior to joining Umpqua Bank, Tony has delivered wide-ranging category management and sourcing leadership across traditional and auction platforms, that have resulted in value delivery, sustainable results and improved supply chain resilience at Procurian, JP Morgan Chase and Nitor Partners. Collectively, Tony has conducted many procurement and strategic sourcing projects delivering over $700m in savings.
Outside of his corporate career, Tony devotes time teaching financial literacy in several Portland Public LMI elementary schools through Financial Beginnings. Additionally, he has participated in five Habitat for Humanity ground up home construction projects in three states. Globally, Tony has led build teams in Guatemala focusing on an orphanage that needed expanded facilities for K-12 youth and built fourhomes and pre-K school in the hills Jamaica.
Tony Bailey obtained his Bachelors of Arts in Political Science and History from Carson-Newman University. He holds an MA in International Relations from Troy University.