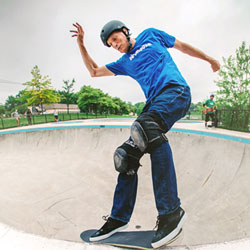 Tony Hawk
Legendary Skateboarder & Entrepreneur
PREVIOUS SPEAKER PAGE
Tony Hawk was a featured speaker at RetailSpaces 2019.
Tony Hawk was nine years old when his brother changed his life by giving him a blue fiberglass Bahne skateboard. By 14 he'd turned pro, and by 16 he was widely considered the best skateboarder on earth. World Champion for 12 years in a row, Hawk continues to skate demos and exhibitions internationally, making him the most recognized action-sports figure in the world. According to some marketing surveys, Tony is the most recognizable athlete of any kind in the United States. In 1999, he teamed up with Activision to create the Tony Hawk's Pro Skater video game. His life would never be the same. In a stroke of good timing, at the X Games that same year, Tony became the first skateboarder to ever land a 900, the holy grail of vert skateboarding.
Today, his business skills have helped create a Tony Hawk brand that includes a billion-dollar video game franchise, successful businesses such as Birdhouse Skateboards, Hawk Clothing, and the Tony Hawk Signature Series sporting goods and toys. His speaking engagements draw huge crowds, inspiring everyone from media-savvy millennials to corporate veterans and tech conferences. An intuitive marketer with social networking, Tony's fan base numbers in the millions on Facebook, Twitter and Instagram. His video game series has surpassed $1.4 billion in sales, and his first mobile game, Tony Hawk's Skate Jam, launched in December 2018. Also in late 2018, Tony partnered with brand marketing veterans to cofound D/CAL, a brand consultancy and creative ad agency based in Detroit and San Diego.
Tony regularly appears on television and in films, and hosts a show on Sirius XM radio's Faction channel. His autobiography, HAWK—Occupation: Skateboarder, was a New York Times bestseller, and his book How Did I Get Here? The Ascent of an Unlikely CEO, covers the business side of his career. In 2012, in partnership with Google, Inc., Tony's film production company, 900 Films, launched the RIDE Channel which has since grown into the biggest skateboard destination on YouTube.
Tony is a role model for fans of all ages. His Tony Hawk Foundation has given away over $7.9 million to over 600 skatepark projects throughout the world. Tony's foundation helps finance public skateparks in low-income areas in all 50 states and other parts of the world through their partnership with Skateistan, providing a safe place to skate. Skateparks that received financial assistance from the Tony Hawk Foundation currently serve over 6-million kids annually.